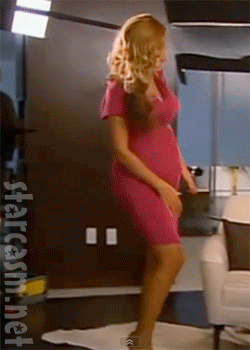 Jay-z 's reaction:
 Shout out to http://iamnotacelebrityasskisser.blogspot.com.
Girl I had to use that graphic—it is funny as hell!
Rehabbers,
I thought you guys would like to read some blogs take on this comedy we witness yesterday.    LMAO—-Enjoy! *sips tea*
Karma is coming for you Beyonce……the lies are unfolding.
Here is their take on dlisted.com :
Escandaloso: Beyonce's Bump Magically Folds In Half On TV

Sandra Rose posted these hilarious screen shots from Beyonce's appearance on Sunday Night HD last night and as she sits down for the interview the holy skin cocoon protecting the unborn golden child completely collapses. HAHA. Sandra says that ever since Beyonce pulled the ultimate STUNT QUEEN move by unveiling her bump in dramatic queen fashion at the VMAs, conspiracy theorists have been whispering on the Internet that she's faking it and Basement Baby's afro is the one carrying her baby and will give birth to it in February. I grew up thinking that Dynasty was real life, so I love scandalous shit like this, but let me throw out a few theories as to what's really going on.

1. The unborn golden child is so special that it can only grow in Beyonce's butt.
2. The unborn golden child is so special that Beyonce has to wear a protective pad to keep it safe.
3. This is just marketing for House of Dereon's new line of memory foam bumps.
4. Nicole Kidman wasn't available when Beyonce asked if she could give her private lessons on how a skilled professional wears a pillow baby to perfection.
5. This is completely natural and I have no idea what I'm talking about (as usual) since I've only been pregnant with whoopie pie babies that later became poop babies.
6. Stealyonce strikes again and stole this idea from Desperate Housewives!

And here's the video of Beyonce's bump in motion. Yeah, I didn't know J.R. Ewing became British either.

[Showed Video]

See, something in the amniotic fluid ain't creole! Somebody get MythBusters on the case!
Here is juicytings.com:
Proof That Beyonce Is Lying To Us About Being Pregnant

Now! for all you out there that have been calling Juicytings.com stupid for doubting Beyonce's announcement on MTV stating that she is pregnant, we now ask, is this enough proof for you gullible folks who believe and hang on every word a celebrity says.  Look at Beyonce's pregnant belly fake pregnant baby bump collapse on Sunday during an interview.  Beyonce's prosthetic baby bump could not have collasped at a better time, of all places and time Beyone's baby bump prosthetic collapses on HD television. Wow! You can't say you didn't see it well.  Beyonce's baby bump coming and going during "the course of her pregnancy" has always been one of our number one suspicion about her pregnancy be legitimate, now we have a good sense of what is going on.

The rumor mill, according to Sandra Rose is saying this:

Rumor has it that Beyoncé is wearing a fake prosthetic while her unknown surrogate carries her baby to term.

Why she won't just be honest with us, we don't know. How can fans or a person trust another fully when a big lie has been told.
Here is  andpop.com :
Is Beyonce Wearing a Fake Baby Bump?

Fans tweeted up a storm when they saw Beyonce's recent on camera interview with Sunday Night HD.

When Queen B sat down, thousands of viewers could see her baby bump folding and crumpling in high definition.

Now, rumours are swirling that Mrs. Jay Z is wearing a prosthetic bump while a surrogate carries her baby to term. Kind of a creepy move, if you ask us. Beyonce is known to keep her personal life VERY private but it's one thing to be private and another to be a complete fraud.

Watch the video and judge for yourself!
Here is taletela.com :
Photographic Evidence Emerges Of Beyonce's 'Fake' Baby Bump!

But are images fake?

Following weeks of rumours and speculation that her bump is fake, photographic evidence appearing to show Beyonce wearing a prosthetic baby bump have emerged.

MediaTakeOut posted the images on their website and they insist that the images are real. The photos show Beyonce greeting a host in preparation for an interview in Australia, and when she goes to sit down, the bump bizarrely folds over.

Upon realising that she had exposed her "fake" bump, Bey gave a shocked look to the host. It was rumoured last month that Bey had used a prosthetic bump to announce her pregnancy on the red carpet of the MTV VMAs, in a bid to make the announcement more dramatic.

Rumours have since mounted, accusing Bey of claiming to be further along in the pregnancy than she actually is.

To view the 'photographic evidence,' head over to MediaTakeOut.com.
Here is amygrindhouse.com
 Beyonce's Fake Bump Will Be Born In February

I read about this a few hours ago, slept on it… and I'm still all 'Huh?!' Okay, so Beyonce was a guest on Australia's Sunday Night news show. BOOP channeled GOOP and discussed how pregnancy was 'TEH BEZT!!1!' and she had never known joy like her gas baby turning into an IRL baby after 10 years of prayers. Also, the singer confirmed being due in February.

Before she got to the good stuff, BOOP walked to where the interview would take place and there was an odd malfunction. Conspiracy theories abound, but from 00:54 into the video, her whole dress and bump wrinkled in such an odd manner it looked like a FAKE BUMP that folded in half as she sat. I s**t you not. She walked on screen, thrust out her bump, then she descended to take her seat… she took her time but accidentally bent right down and you saw her whole stomach area fold in half. Like it was a pillow baby to accentuate her IRL baby.Then she pulled a face like 'I dun goofed.' I can't. IDK.

 I'll summarise today's conspiracy theories, after reading the comments/ posts on MTO, Sandra Rose and ONTD 1) She's not pregnant, faking until a surrogate gives birth 2) she's faking how far along she is to boost album sales/ to exaggerate so she can peace out from work earlier 3) it was some kind of weird seam in a maternity dress 4) people are pressed
Here is blackbookmag.com :
Is Beyoncé Faking Her Pregnancy?

Beyoncé recently appeared on an Australian television show to discuss her pregnancy, but her belly moved in mysterious ways.

The rumors have been spreading since Beyoncé announced her pregnancy live after her performance of "Love on Top" at the MTV Video Music Awards in September. While it certainly was stunt-like, most people were just happy for Bey and her husband Jay-Z, if only because they seem like a pretty sweet couple whose progeny is likely to TAKE OVER THE WORLD.

But while appearing on Sunday Night HD last night, on which she announced that she's due to give birth in February, the singer's stomach seemed to fold in on itself as she sat down in her chair.

That poor possibly fake fetus! That looks painful! Of course the rumor mill continued to churn, this time suggesting that Beyoncé and Jay-Z have hired a surrogate to carry their child. It's certainly possible, but it's also possible that the dress is oddly stiff? But for those of us who were worried that Beyoncé would take a long hiatus from touring following the birth of her child, perhaps this surrogate business is real and would allow her to hit the road soon. She does love her fans, after all.
 A picture and a video tells a 1,000 words….
Your thoughts?
~Real Fedup